Reality Tv star and Nollywood actress, Erica Nlewedim reveals her take on the current Abuja-Kaduna Train Attack as well as her frustration over Nigeria's current insecurity challenge.
The star-girl, who made the declaration in a post on her verified Twitter handle regretting why she had to be a Nigerian also added that being one is frustrating.
Taking to the micro-blogging platform, Erica wrote; "I really don't want to be a Nigerian anymore, it's so frustrating."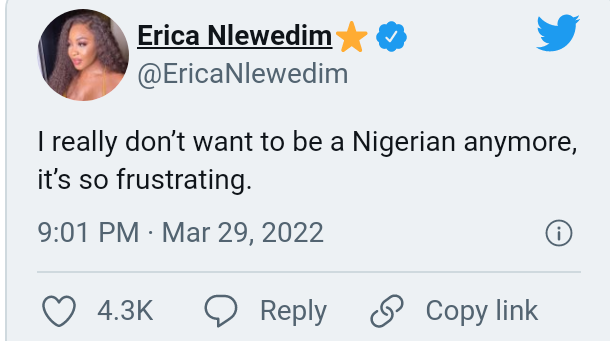 Her declaration is coming after Monday's terrorist attack on the Abuja-Kaduna train which claimed innocent lives.
In an earlier post, she had wrote: "Sending prayers to the people involved in the kaduna/Abuja tragedy."
Netizens, however, backed her position. @Engineer Harold wrote: "It is true that am born and raised up in Nigeria, but to be honest with you, am not a Nigerian. I'm a Biafran by blood and ancestral lineage….????"
@Emilia MBA wrote: "Nothing is wrong with Nigeria just bad governance and leadership, and we have another opportunity to change our future but most of us are also treading on the same road again. We cannot eat cake and still have it. Bad leadership is the worst thing that can happened to any nation."